BETWEEN WORD AND IMAGE
A Gloria Anzaldúa Thought Gallery
Opening: March 17, 2016, 5:30pm
Exhibition: March, 18 – April 16, 2016
Casa de Cultura U.A.E.M. en Tlalpan
Triunfo de la Libertad #9, Mexico City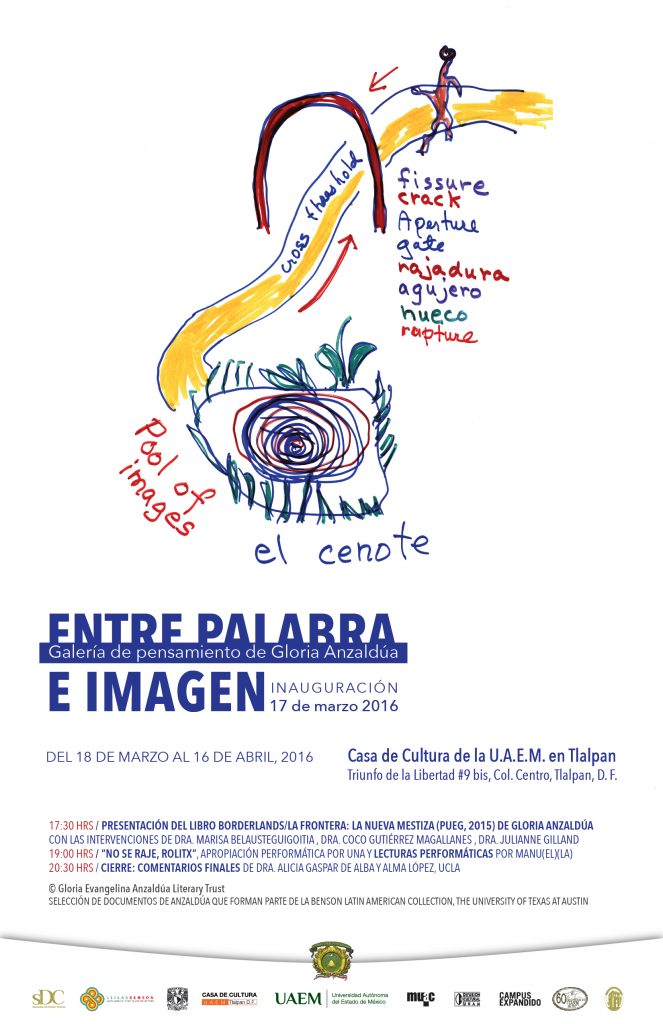 Opening program
5:30pm
Book lunch
Borderlands/La frontera: la nueva mestiza (PUEG, 2015)
by Gloria Anzaldúa
with interventions by
Marisa Belausteguigoitia (Facultad de Filosofía y Letras, UNAM)
Coco Gutierrez-Magallanes (independent researcher)
Julianne Gilland (LLILAS Benson Latin American Studies and Collections, Universidad de Texas/Austin)
7pm
"No se raje, rolitx", performative appropriation by Una
Performative readings by MANU(EL)(LA)
8:30pm
Closing: comments by Alicia Gaspar de Alba and artist Alma López (UCLA)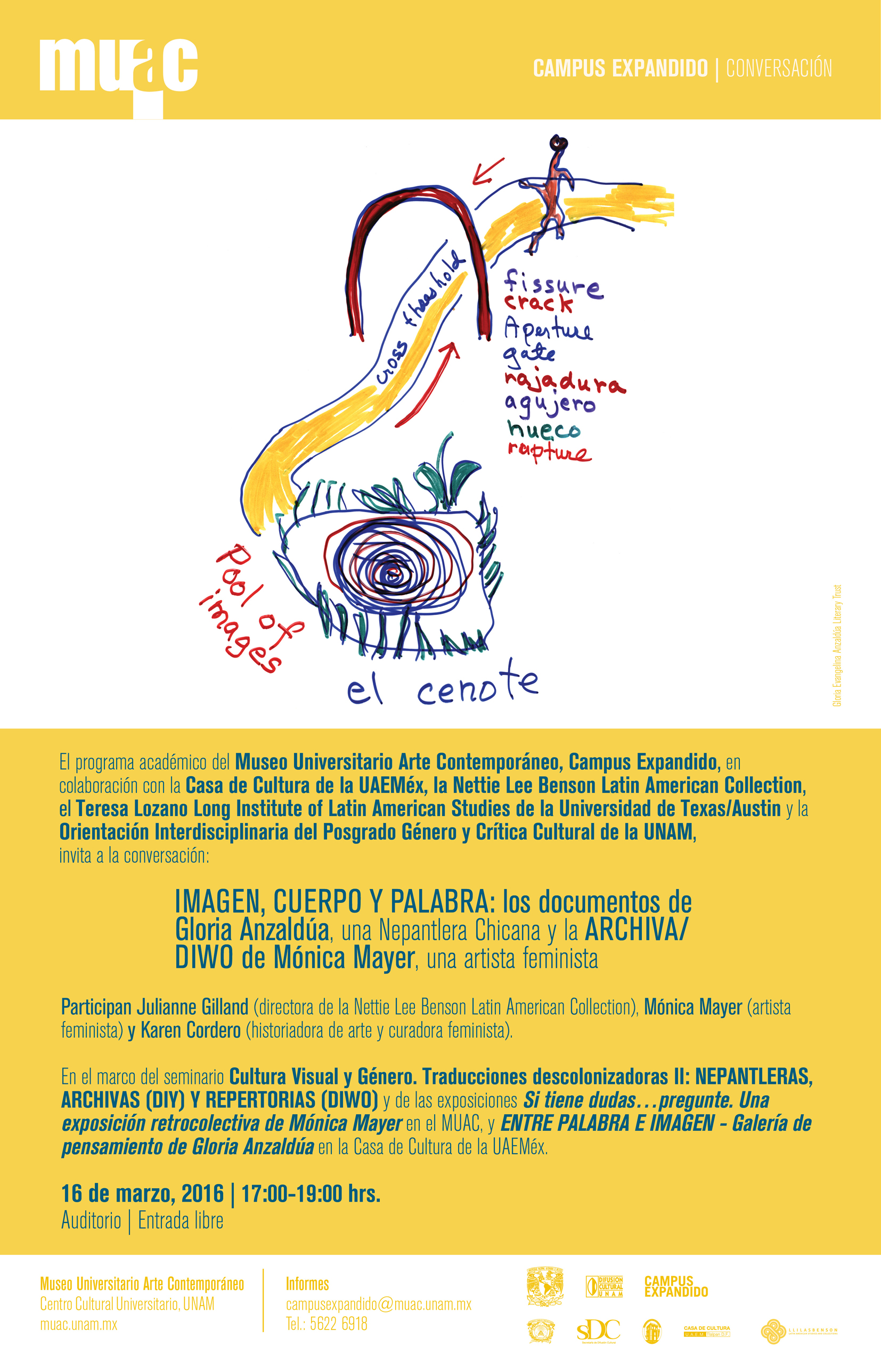 A day before the opening, on March 16 at 5pm the conversation
Imagen, cuerpo y palabra: los documentos de Gloria Anzaldúa y La Archiva/DIWO de Mónica Mayer
with Julianne Gilliand (director of the Nettie Lee Benson Latin American Collection) Mónica Mayer (feminist artist) and Karen Cordero (feminist art historian and curator)
will take place at the MUAC.
An image is a bridge between evoked emotion and conscious knowledge; words are the cables that hold up the bridge. Images are more direct, more immediate than words, and closer to the unconscious. Picture language precedes thinking in words; the metaphorical mind precedes analytical consciousness.
Gloria Anzaldúa, Borderlands: the new mestiza = La frontera, 1987

When I studied painting and writing, I discovered that I could create concrete universes. Rather, I didn't create them; I was the conductor for them, the channel.
Gloria Anzaldúa, "Creativity and Switching Modes of Consciousness," 1986

BETWEEN WORD AND IMAGE. A Gloria Anzaldúa Thought Gallery, exhibited for the first time in the south of the Río Bravo, confronts us inevitably and creatively with the following questions: How do we read and take up the visual and textual work of Anzaldúa today, here in Mexico? What role do borders play? Borders, we inhabit, we survive and where we live. How does Anzaldúa help us give tongue/language and sense to the ways in which race relations, gender, sexuality, ethnicity and class are configured in Mexico and the Borderlands? What is she saying/showing to us? How current/relevant are her thought and intellectual propositions?
A self-described "Chicana, tejana, working-class, dyke-feminist poet, writer-theorist," Gloria Anzaldúa also saw herself as a nepantlera, one who navigates a liminal space between worlds, identities, and ways of knowing. Just as fluid movement between English, Spanish and Nahuatl was central to Anzaldúa's teaching and writing, so too was the interplay between words and images an essential element of her self-expression.
The words and images presented for the first time in Mexico come from transparency drawings, notes, and diagrams that Anzaldúa presented to her audiences at workshops and lecture "gigs" across the United States of America. Some are undated, but many were created during one of the most active periods of her teaching career, in the mid-1990s.
These vivid documents provide an intimate view into Anzaldúa's creative process and demonstrate the centrality of imagination and visuality to the author's theories of knowledge and consciousness. Anzaldúa explores borders and builds bridges that allow contact, friction, and mixture with the unexpected, the foreign, the queer, the "other," which is, in many instances, the reverberation of the self and the collective memory.
SELECTION FROM THE ANZALDÚA PAPERS AT THE BENSON LATIN AMERICAN COLLECTION
THE UNIVERSITY OF TEXAS AT AUSTIN
CURATORS:
Julianne Gilland, Coco Gutiérrez-Magallanes, Nina Hoechtl, Rían Lozano
Curatorial assistents: Alana Varner y Frank Rodriguez (at the LLILAS Benson Latin American Studies and Collections – University of Texas/Austin), MANU(EL)(LA) (in the Casa de Cultura de la UAEMéx)
Translations: Coco Gutiérrez-Magallanes, Nina Hoechtl, Valerie Leibold, Rían Lozano, Mauricio Patrón.
Voices: MANU(EL)(LA)
Convened by Casa de Cultura de la UAEMéx, Campus Expandido/MUAC, LLILAS Benson Latin American Studies and Collections, Universidad de Texas/Austin, Tepetongo. Balneario Crítico y Centro Cultural Border.