FACES: gender, art, technology
20 years of interactions, connections and collaborations
Ausstellungsdauer: 14.10. – 5.11., Dienstag bis Sonntag von 15:00 – 19:00 Uhr
Ausstellung und Symposium Freitag, 13.10.2017 um 19:30 Uhr
Symposium, Videoscreenings, Performances Samstag, 14.10. und Sonntag 15.10.2017
2017 feiert die internationale Online-Community FACES ihr 20. Jubiläum. FACES ist ein Netzwerk von Medienkünstlerinnen, die über den Listserv faces-I.net miteinander verbunden sind und sich nach Möglichkeit auch real treffen.
Faces wurde 1997 in Österreich gegründet und basiert auf zahlreichen Begegnungen von Frauen weltweit, persönlich und virtuell. Das Gefühl grenzenloser Kommunikation eröffnete neue Möglichkeiten für kreative Online-Projekte – Performances, Spoken Word, Sound und theoretische Diskussionen. http://www.faces-l.net/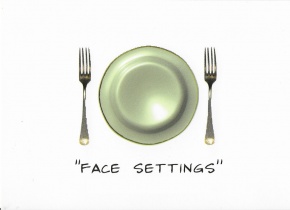 Freitag, 13.10.2017 um 19:30 Uhr: Eröffnung der Ausstellung:
Es sprechen:
Tina Wirnsberger, Stadträtin für Frauen und Gleichstellung
Christine Braunersreuther, Kultur- und Frauensprecherin der KPÖ Graz
Kathy Rae Huffman (US), Kuratorin
Performances:
Helen Varley Jamieson (NZ/DE)/Annie Abrahams (NL/FR) – "Unaussprechbarlich"
Boryana Rossa (USA/BG), mit If Nickl und Sylvie Leiner (AT) – "Golden Carelessness"
Beteiligte Künstlerinnen und Theoretikerinnen – Performances, Videoscreenings, Präsentationen: 42, Annie Abrahams/Helen Varley Jamieson, Nora Al Badri/Jan Nikolai Nelles, Perry Bard, Anne Bray, Nancy Buchanan, Filipa César/Grada Kilomba/Diana McCarty, Lena Chen, Katy Deepwell, DIVANOVA daniela jauk/anita peter mörth/ sol haring, Valie Djordjevic, Charlotte Eifler, Marina Grzinic/Aina Smid, Heide Hatry, Lynn Hershman Leeson, Ida Hirsenfelder, Elaine Wing-Ah Ho/Ming Lin, Nina Hoechtl feat. INVASORIX, Reni Hofmüller, Margarete Jahrmann, lizvlx, Manu Luksch, Jenny Marketou, Varsha Nair, Arghyro Paouri, Boryana Rossa, Mechthild Schmidt Feist, Nina Sobell, Evelin Stermitz, Hito Steyerl, Myriam Thyes, Tanja Vujinovic, Anja Westerfrölke, Faith Wilding/SubRosa, Eva Wohlgemuth.
Symposium:
Samstag 14.10. von 10:00-18:00 Uhr
10:00  Kathy Rae Huffman (US) / Arghyro Paouri (GR/FR) – Einführung, Faces in Paris 2000 und Gedenken an Nathalie Magnan (1956–2016).
10:30-12.30 Panel: Networking histories.
Nancy Buchanan (US) – früher Feminismus in den USA, The Woman's Building, LA
Katy Deepwell (GB) – n.paradoxa
Moderation: Diana McCarty (DE/US), Mitbegründerin von Faces und ReBootFM
Anschließend Diskussion.13:30 Marina Grzinic (SI) – Connecting struggles: feminism in former Eastern Europe, the LGBTQI movement in former Yugoslavia and the decolonial transfeminist WOC positions from Austria and larger
14:00  Kurzpräsentationen (vor Ort und via Skype):
Nancy Buchanan (US), Lena Chen (US), Valie Djordjevic (SRB/DE), Charlotte Eifler (DE), Sol Haring (AT), Ida Hirsenfelder (SI), Elaine Wing-Ah Ho (HK), Reni Hofmüller (AT), Margarete Jahrmann (AT), lizvlx (AT), Manu Luksch (AT/UK) (Skype), Diana McCarty (US/DE), Gordana Novakovic (SRB/UK)  (Skype), Arghyro Paouri (GR/FR), Boryana Rossa (BGR/US), Nina Sobell (US), Evelin Stermitz/ ArtFemTV (AT), Myriam Thyes (LUX/CH/DE), Helen Varley Jamieson (NZ/DE),  Anja Westerfrölke (AT)…
Anschließend offene Publikumsdiskussion.
18:00 "bloody mary hairy!" a DIY (gaga-)feminist didactics cock*tail tale. Film by DIVANOVA/daniela jauk, anita peter mörth, sol haring film, 2017. Skype-performance-talk with DIVANOVA and Sol Haring.
18:30  Faces communal Dinner
20:00  Performances:
Lena Chen – "The Life and Death of Elle Peril"
Reni Hofmüller – "Resonating Sculpture II – Jetzt/Now"
21:00 PARTY mit Djanes CHARLOTTE [G-Edit] (DE) und anderen.
Sonntag 15.10. von 10.00 – 16:00 Uhr
10.00 Kaffee und Gespräche
11.00 – 14.00  Abschlussdiskussion, Strategien für die Zukunft und Gespräch mit den Faces-Moderatorinnen.
14:00 Filmvorführung: Lynn Hershman Leeson, !Women Art Revolution (2010, 83 min.)
Kuratiert von Kathy Rae Huffman and Eva Ursprung, (in Zusammenarbeit mit Valie Djordjevic, Diana McCarty und Ushi Reiter)
Die Mailingliste FACES  wurde 1997 als Antwort auf den dringenden Bedarf einer steigenden Anzahl an Frauen in der Medienkunst gegründet. Nach einer Reihe von Diskussionen am Rande der großen europäischen Medien-kunstfestivals und via Emails wurde die Frage aufgeworfen: "Wo sind die Frauen?"
Parallel dazu wurde das Projekt Face Settings gestartet: Künstlerinnen, Theoretikerinnen, Programmiererinnen, Designerinnen, Kuratorinnen, Journalistinnen wurden informell zu Tisch geladen, um in entspannter Atmosphäre ihre Arbeit zu diskutieren. Bei einem dieser Dinner in Wien entstand daraus die Mailingliste FACES, die einen grundlegenden Wandel in der Praxis einiger Frauen markierte. Die FACES-Liste wurde zu einer wichtigen Kommunikationsplattform.
FACES organisierte zahlreiche informelle wie auch öffentliche Treffen, Dinner, Open-Mic Sessions und Präsentationen parallel zu verschiedenen Medienkunstfestivals. Schwerpunkt bleibt der Aspekt des Netzwerkens. So gab es auf der ars electronica 1997 ein mehrtägiges Face Settings Dinner, und 1998 fand im Forum Stadtpark Graz unter dem Titel Face2Face die erste Ausstellung von FACES statt, kuratiert von Kathy Rae Huffman und Eva Ursprung. Begleitend dazu gab es Performances, Workshops und ein Symposium.
Für die diesjährige Ars Electronica kuratierten Diana McCarty und Ushi Reiter zum 20. Jubiläum der Mailingliste ein Panel im Rahmen der Veranstaltung "Feminist Climate Change": https://youtu.be/VKG0yXWDIq8
In Graz geht es nun weiter mit einer Ausstellung und einem Symposium, in dem Projekte und Arbeiten mehrerer Generationen internationaler Medienkünstlerinnen präsentiert werden – von den Pionierinnen bis hin zur nächsten Generation.
Eine Kooperation von Schaumbad – Freies Atelierhaus Graz; IFCA (International Festival of Computer Arts), MRFU Maribor; Galerija Makina, Pula; Ursprung Tonträger, Strantschitschach.
Gefördert von: Alpen-Adria-Allianz, Stadt Graz Referat Frauen und Gleichstellung, KPÖ, Gemeinderatsklub der Grazer Grünen