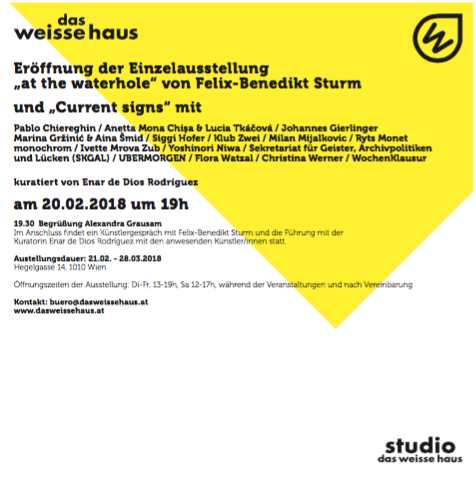 "Current signs"
curated by Enar de Dios Rodriguez
"Current signs" is a project to which contemporary artists were invited to express their actual concerns and demands in form of protest banners. What must we demand or protest against? What needs to be expressed publicly? What statements need to be taken to the streets? The resultant 16 protest banners designs, conceived by a wide range of artists, give a visual answers to these poignant questions. Printed in editions of 50, these banners will be on view at das weisse haus from the 20th of February to the 31st of March, where visitors could take them for free as long as they are available.
This project is born from the need to address concerns related to our current political landscapes and the raise (and acceptance) of far-right, xenophobic and racist ideologies. As always – but maybe now more than ever – we need to make visible our demands, to share with each other our ideas, our worries and our needs. Current signs aims to encourage this exercise of the right to demonstrate and protest.
participating artists:
Pablo Chiereghin / Anetta Mona Chişa & Lucia Tkáčová / Johannes Gierlinger / Marina Gržinić & Aina Šmid / Siggi Hofer / Klub Zwei / Milan Mijalkovic / Ryts Monet / monochrom / Ivette Mrova Zub / Yoshinori Niwa / Sekretariat für Geister, Archivpolitiken und Lücken (SKGAL) / UBERMORGEN / Flora Watzal / Christina Werner / WochenKlausur
EXHIBITION at das weisse haus
Opening February 20, 2018, 7 pm
Duration: February 21 – March 28, 2018 // Tuesday to Friday 1pm –7pm, Saturday 12am – 5pm, or by appointment